► Chapter One: Introduction
► Chapter Two: Hotels and Accommodations
► Chapter Three: Shop and Dine in New York City
► Chapter Four: A Feast For The Eyes
► Chapter Five: Seeing the Past in New York City's Present
► Chapter Six: Out And About In New York City
► Chapter Seven: Interacting With New York
► Chapter Eight: The New York City Night Scene
► Chapter Nine: Off New York City's Beaten Path
► Chapter Ten: Conclusion
Chapter Three: Shop and Dine in New York City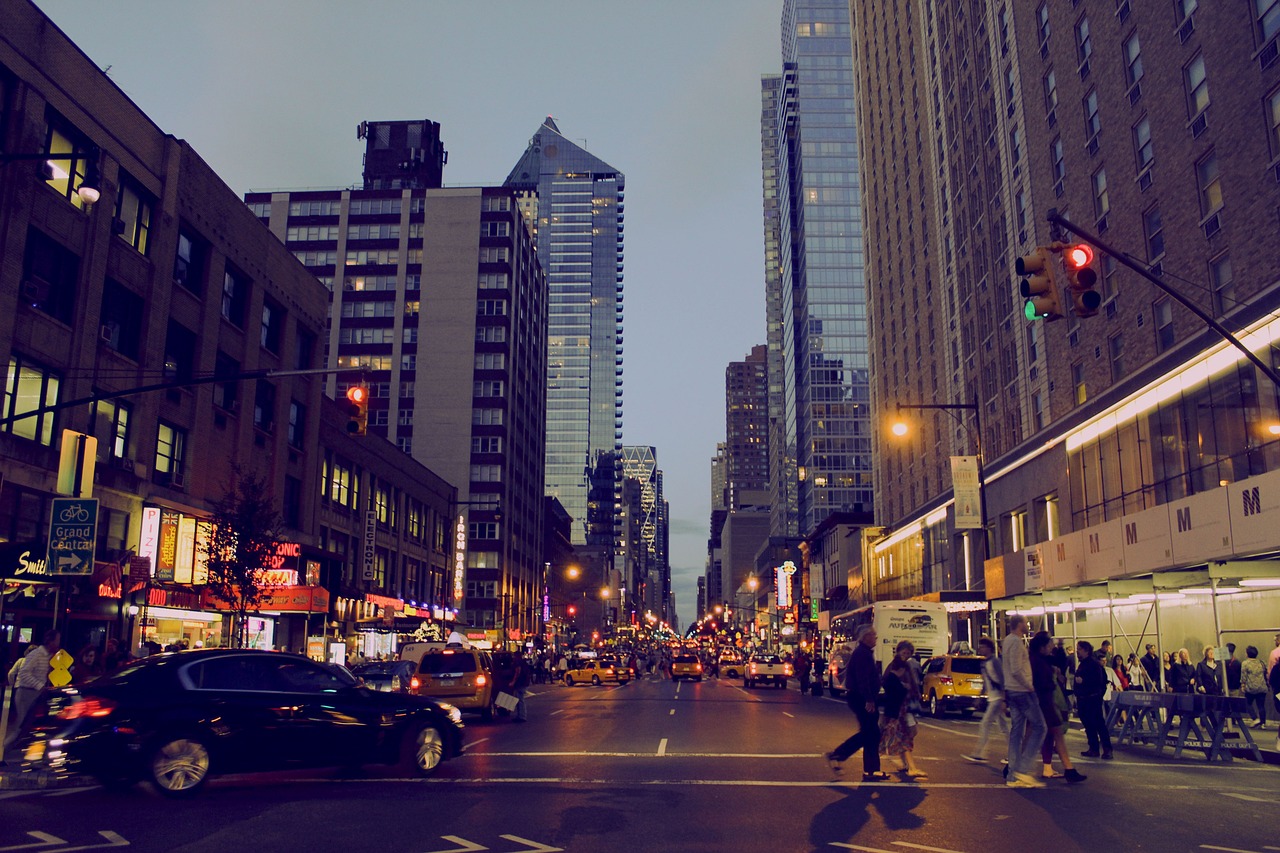 Food is practically a culture in New York City, and so is the shopping.  Many tourists who come to the City do so for either or both, and New York City hardly disappoints.  There are shops and boutiques and discount stores practically in every borough in New York, and dining choices range from street food to pizza to cafés and fine dining.  The different cultures and ethnicities that now make up a substantial population of New York City have only served to enliven these aspects, and your options for culinary specialties and shopping bazaars can pretty much take you all over the world, if you know where to look.
The recent gentrification of New York City has had its own effect too – revitalizing neighborhoods, or seeing the mass movement of communities to different areas.  In most instances, this does mean a rise in price ranges, so be prepared.  Check out the areas that are within your price range – or you can simply window shop in the more affluent areas if you wish.  Don't forget to enjoy the culture, grandeur and diversity as you go around the City.
A premier shopping and dining location, Rockefeller Center is a national historic landmark located in the heart of Midtown Manhattan.  It is a large complex of 19 high-rise commercial buildings located between 48th and 51st streets, commissioned by the Rockefeller family.
Originally, John D. Rockefeller intended the area for an opera house, but after the stock market crash of 1929 and continuous delays, Rockefeller was forced to abandon the original plans and move ahead as sole financier of one of the largest private building project in modern times.
The original opera house project was not included, and instead there arose 14 buildings in the Art Deco Style.  Rockefeller Center opened in 1939.  For a time, it also served as the base of U.S. operations of British Intelligence and British Security Coordination during the war, with Room 3603 the principal operations center for Allied Intelligence.
At present, Rockefeller Center is composed of two building complexes: the original 1930s 14 Art Deco office buildings, with an additional building across 51st Street that was later built in 1947.  The second is a set of four towers along the west side of the Avenue of the Americas.  At the heart of Rockefeller Center is 30 Rockefeller Plaza, which lies under the shadow of 30 Rockefeller Center, also called Comcast Building, and sometimes 30 Rock.  The Lower Plaza is where the annual famed Rockefeller Center Christmas Tree is lit, and also the popular ice skating rink. At the top of 30 Rock is the Center's observation deck, which gives visitors an amazing 360-degree panoramic view of New York City.
Rockefeller Center is also home to Radio City Music Hall, or Radio City, with an interior that boasts the world's greatest example of Art Deco design, and seats 6,000 people.  The Center itself is sometimes referred to simply as "Radio City."
For those looking to shop and dine, there is an underground pedestrian passage that runs from 47th to 51st street, from Fifth Avenue to Seventh Avenue.  Access can be had through any of six landmark buildings, elevators and restaurants surrounding the skating rink.  This passage is filled with shops and restaurants for the enterprising tourist.  Over all, Rockefeller Center has over 100 unique fashion, gifts and souvenir shops, and just as many and as varied restaurants where you can grab a quick lunch, have a cocktail, or have an amazing fine dining experience.
Fifth Avenue has long been acclaimed as one of New York City's premier shopping destinations.  It starts just north of Washington Square, all the way up to 143rd street in Harlem.  It features some of the most prestigious shops around – and is considered among the most expensive shopping streets in the world.
The high status of Fifth Avenue was established early on – since 1862 – as the home of New York City's social elite when Caroline Schermerhorn moved in and the Waldorf-Astor Hotel was established.  It was largely a residential district to begin with.  The first commercial building was built here only in 1906, with the establishment of B. Altman and Company.  Since then, it has become the fashion destination of high end shoppers and the upscale stores that catered to them.  Penthouses in the buildings along Fifth Avenue have been called the "most coveted real estate" by Forbes magazine in 2008.
Fabulous shopping destinations include Saks Fifth Avenue, Bergdorf-Goodman, Louis Vuitton, Prada, Gucci, Ferragamo, Gucci, Emanuel Ungaro, Bottega Veneta, Harry Winston, Nike, Emilio Pucci, Zara, Ralph Lauren, and Lacoste, among others.  There is also Harry Winsdon, Bulgari, Cartier, Tiffany's, and Van Cleef and Arpels for jewelry, Bergdorf Men and the Yankees Clubhouse Shop that caters to men, as well as the Microsoft Store and the famous underground Apple Store.
In fact, Fifth Avenue can be a one-place stop for a New York visit – as it is also home to many of the city's notable landmarks such as the Empire State Building, the Flatiron Building, New York Public Library, Rockefeller Center, St. Patrick's Cathedral, and a wonderful selection of amazing museums along Museum Mile.
Famished after all that shopping?  Fifth Avenue offers more than enough spots to satisfy your gastronomic cravings.  From street foods like The Famous Halal Guys, Angelo's Pizza, Margon, Café Cello, and Uncle Gussy's, to international cuisine like Japanese Katsu-Hama, Turkish food at Akdeniz, Burger Joint, or Chinese at Xi-an Famous Foods, and something a bit more fancy at fine dining restaurants such as Smith & Wollensky, La Grenouille, and db Bistro Moderne, among others.  There's lots more to explore.
If you are hankering for something a bit more unique in your shopping and dining experiences, look no further than the South Street Seaport.
Located between Brooklyn Bridge and Wall Street, this historic district in Lower Manhattan not only offers a great variety of shopping and dining options, there are also seasonal entertainment, rich cultural activities, harbor cruises, and much more.
Relive the heyday of what was once the busiest port in America.  This is the location of the largest concentration of restored early 19th century commercial buildings in America.  Other notable historical points of interest are the Titanic Memorial Lighthouse, the former Fulton Fish Market, historic ships – five of which are docked at least semi-permanently, including the United States Lightship LV-87 (1908), Lettie G. Howard (1893), Pioneer (1885), W.O. Decker (1930), and Wavertree (1885).  The port also offers visitors a wonderful view of the Brooklyn Bridge.  You can also visit the South Street Seaport Museum to learn more about the history of the port.  The area around the museum is a great place to go for a stroll, too, and you can enjoy the beautiful 18th and 19th century buildings and homes that are part of the historic district.  At Schermerhorn Row, a row of twelve early 19th century warehouses, are a diverse range of restaurants, shops and galleries to explore.
This is a great place to bring the kids to, and there are more than enough shopping and dining options to satisfy your hunger and shopping cravings.  Pier 17 is probably the most famous – a shopping mall that carried everything while providing a great view of the Brooklyn Bridge.  It was demolished in 2014, though Pier 17 is expected to reopen again in 2017, this time as a brand new glass complex.
Every with Pier 17 currently out of commission, however, there are other places to explore.  Try out Lee Lee's Forest, Browne & Co. Stationers, Modabox, Seaport Studios, D.U.O. GEAR, and Puma City.  Prices are certainly more affordable compared to the affluent shopping districts of Manhattan, but there is surely no shortage of diversity and interesting things to see. And for something to eat, try out some of the crowd favorites such as Tabasco Grill, Made Fresh Daily, Acqua, and MarkJoseph Steakhouse.
Want to read the entire thing?